Season One aired from September 9, 2010 to May 12, 2011 and contained twenty-two episodes from Pilot to Pandora.
Main Cast
Edit
Recurring Cast
Edit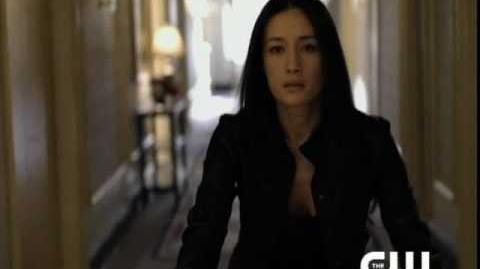 A young girl robs a drug store alongside her boyfriend Robbie. She hesitates in shooting the owner of the store, and her boyfriend doubles back to shoot him before quickly running off, leaving Alex to be arrested. As she is being brought into prison, she fights the prison guards with good strength; little does she know that Michael is watching. He later processses her into Division , a covert unit of the government that takes young and susceptible criminals into their training program and forces them to do the work under penalty of death.
However, all higher up members of Division are worried because Nikita has come back online, meaning that she is targeting Division once more. What's worse is that she has a mole inside, and it is now further impossible to not trust anyone at Division.
By the end of Pilot, it is revealed that this mole is in fact Alex. The two communicate through a program Nikita created whilst still at Division called the shellbox program.
As the series progresses, Nikita routinely sabotages missions that would have been major successes for Division, and also saves the lives of recruits such as Sarah. More light is shed on the lives of the main characters, and it is revealed that Alex was sold into human trafficking by a man who had been close to her ogliarch father before his murder at the hands of Division.
Eventually, Michael joins Nikita's cause after she helps him find and kill Kasim Tariq . He tells her a story of how he had once found the perfect home for his now-deceased wife and daughter, and of the domestic life that Tariq took away from him.
Alex is forced to kill her rival, Jaden , after Nathan accidentally reveals in front of her that Alex has told him of her true occupation. Amanda tells Alex that Division now operate with new cochlear implants that are virtua
lly undectable by even the wearers, and Jaden's recorded Alex calling Nikita. Alex is found out as the mole of Division, and is thus interrogated. Michael is locked away in Division, too.
Michael escapes courtesy of Birkhoff and rejoins Nikita, who is a fresh escapee from CIA headquarters. As the season ends, it is shown that Amanda has tricked Alex's killchip into no longer working, and wants to recruit her into Oversight . Michael and Nikita try not to worry about the future as they drive off into the oncoming storm.
Episode List
Edit
Image
Title
Writer(s)
Director(s)
Airdate
#
Pilot
Writer: Craig Silverstein
Director: Danny Cannon
September 9, 2010.
#1x01
When she was a deeply troubled teenager, Nikita was rescued from death row by a secret U.S. agency known only as Division, who trained her as a spy and assassin. Nikita was eventually betrayed by the only people she thought she could trust. Now, after three years in hiding, Nikita is seeking retribution and making it clear to her former boss, Percy and her former friends Michael and Birkhoff that she will stop at nothing to expose and destroy their covert operation. Division continues to recruit and train other young people, among them Jaden and Thom, erasing all evidence of their former lives and turning them into cold and efficient killers. One of these new recruits, Alex is a beautiful girl with a violent past and a story not so different from Nikita's. The recruits all spend part of their training with Amanda, a master manipulator who can turn any ugly duckling into a swan and any bleeding heart into a killer.
2.0
Writer: Craig Silverstein & David Levinson
Director: Danny Cannon
September 16, 2010.
#1x02
Percy and Michael take their latest assignment, a Slavic leader wanted for war crimes, into protective custody. Nikita learns of their hideout and attempts to thwart their plan, but a mysterious group of mercenaries in search of nuclear material beats her to the task. Alex is activated earlier than expected for a special assignment that throws her into the crossfire of bullets. A flashback reveals a pivotal moment in Nikita's life.
Kill Jill
Writer: Amanda Segel
Director: David Solomon
September 23, 2010.
#1x03
Nikita rescues Jill, a journalist who is trying to expose a conspiracy involving Division and a major plane crash. Michael and Percy suspect Birkhoff of being Nikita's inside mole and send Amanda in to interrogate him. Michael enlists the help of the recruits, Alex, Jaden and Thom, to help them locate their latest target.
Rough Trade
Writer: Carlos Coto
Director: Nick Copus
September 30, 2010.
#1x04
Nikita delves into her past when she posed as a nanny for an influential government official and decides to right the wrong of his death. During the mission, Michael comes to Nikita's rescue and begins to doubt Percy's motives. Back at Division, while undergoing basic training, Alex suffers from a panic attack which prompts Amanda to break her of claustrophobia.
The Guardian
Writer: Albert Kim
Director: David Solomon
October 7, 2010.
#1x05
Division's secrets are at risk of being revealed when an operative becomes a fugitive.
Resistance
Writer: Kalinda Vazquez
Director: Guy Ferland
October 21, 2010.
#1x06
Nikita convinces Owen to trust her leading him to tell her how her fiancé died. The recruits transport vehicle is attacked and Alex and Thom are kidnapped (a division test). They are tortured and pushed to their limits until Alex breaks free and turns to Nikita for help.
The Recruit
Writer: Amanda Segel
Director: Eagle Egilsson
October 28, 2010.
#1x07
Alex alerts Nikita that a fellow recruit has been activated for a suicide mission.
Phoenix
Writer: Jim Barnes
Director: David Barrett
November 4, 2010.
#1x08
Division sends Thom to eliminate Anna, a woman who was having a secret affair with a U.S. Senator. Division agrees to cover up any trace of the affair as long as the Senator agrees to help pass a bill that will continue to fund the agency. Nikita, with Alex's help, attempts to reach out to Anna's parents, but the conversation doesn't go as she expected.
One Way
Writer: Albert Kim
Director: Kenneth Fink
November 11, 2010.
#1x09
Nikita and Michael temporarily team-up to kill a terrorist,Kasim Tariq,who murdered Michael's family many years ago. When Percy learns this information, he sends Division agents to kill Nikita, who ultimately compromises the mission, leading to Michael's capture by the terrorist group. Alex is caught going through medical files inside Division so she creates a lie that involves Jaden and almost blows her cover.
Dark Matter
Writer: Carlos Coto
Director: Danny Cannon
December 2, 2010.
#1x10
Owen leaks secret information from Division's black boxes to the media, revealing that the U.S. Government was responsible for an assassination in Chile. As a result, Percy frames a C.I.A. agent, Ryan for the crime. Nikita and Owen go to Chile to rescue Ryan from mercenaries and in doing so end up getting captured. Nikita reveals the secrets of Division to Ryan in an effort to save all of their lives. Back inside Division, Alex spies on Percy and Birkhoff and witnesses a side to Percy she has never seen before.
All The Way
Writer: Craig Silverstein
Director: Terrence O'Hara
December 9, 2010.
#1x11
Alex informs Nikita that Division is sending her on her first mission to kill the leader of a crime syndicate. Alex is uneasy about taking someone's life but is reassured by Nikita who insists on helping her with the kill order. Birkhoff informs Percy and Michael when he discovers the shell program that a Division mole has been using to connect to Nikita in the outside world. When the mission doesn't go as planned, Nikita makes a quick decision in an effort to clear Alex's name. Inside Division, Jayden attempts to reveal Alex as the mole but Thom steps in and a shocking accident clears her name.
Free
Writer: Kalinda Vazquez
Director: Jonathan Glassner
January 27, 2011.
#1x12
Now an agent, Alex gets a new apartment and is given a cover job. She meets her new neighbor Nathan who invites her to a party at his house. Nikita warns Alex about getting too involved with people but Alex struggles between her duties at Division and living a normal life.

Nikita realizes Division has implanted a kill chip in Alex's head and sets out to gain control of the chip. While interrogating Birkhoff, Nikita stuns Ryan by revealing a secret.

Coup de Grace
Writer: Albert Kim
Director: Nathan Hope
February 3, 2011.
#1x13
On her first mission, Alex and a group are assigned to kill the Prince of Georgia at a museum gala. When Alex tells Nikita about the assignment, they build a plan to prevent the assassination. However, Nikita puts her trust in wrong person and the plan falls apart, leading to a stand-off and letting Division know that Nikita is in the building.
The Next Seduction
Writer: Carlos Coto
Director: David Solomon
February 10, 2011.
#1x14
Nikita reluctantly assumes a past alter ego to stop a dangerous new weapon from coming into the U.S.; Alex's new life is interfered with.




Alexandra
Writer: Andrew Colville
Director: Kenneth Fink
February 17, 2011.
#1x15
During a mission to obtain a high-tech cell phone at a nightclub, Alex runs into Irina (Ksenia Solo), an old friend from her past from her days as a sex slave. Alex tries to help Irina escape from her captor and their old boss; Vlad, a Russian mobster, but Irina betrays her and has her captured by Vlad, who has a debt to settle - as well as believing that Alex is Alexandra Udinov; the exiled daughter of a deceased Russian leader and heir to "Zetrov"; his massive business empire. Alex's past is revealed and it is confirmed she is Udinov, and Nikita and Alex have kept her old identity a secret to prevent Zetrov or Division from hunting her down. Alex lies, however, and says she is not, to not reveal her past and wait until Nikita rescues her. Knowing about Alex's old drug habit, Vlad uses that so Alex can reveal who she really is. As Nikita tries to save Alex, she runs into Michael, who is also searching for Alex. Knowing that she can't compromise Alex's secret, Nikita has to work with Michael to save Alex without blowing Alex's cover.
Echoes
Writer: Kristen Reidel
Director: Nick Copus
February 24, 2011.
#1x16
In order to speed up her healing, Amanda sedates Alex after her last mission then takes advantage of Alex's drugged condition to question her about the secrets Amanda believes Alex is keeping. Nikita realizes Alex is in danger and tries to secure her another identity to smuggle her out of the country. However, Nikita's contact double-crosses her and she comes face to face with a surprising opponent. Meanwhile, Michael becomes suspicious of Alex and asks Birkhoff to investigate her.




Covenant
Writer: Jim Barnes
Director: Eagle Egilsson
April 7, 2011.
#1x17
Michael confronts Nikita in her lair and reveals that he knows Alex is the mole. He tells Nikita that she has 24 hours to find Kasim, the man who killed Michael's family, or he will tell Percy about Alex.




Into the Dark
Writer: Albert Kim
Director: Jeffrey Hunt
April 14, 2011.
#1x18
Nikita and Owen go to London to retrieve one of Division's black boxes, but when he tells Nikita that he wants to release the contents of the black box to the public, Nikita disagrees, and he turns on her. Meanwhile, Percy finds out that Nikita is in London and dispatches Michael to kill her. Also, Amanda overhears Jaden arguing with Alex about the escape tunnels so she hooks Alex up to a lie detector to get the truth out of her once and for all.
Girl's Best Friend
Writer: Carlos Coto
Director: Robert Lieberman
April 21, 2011.
#1x19
Nikita believes it's getting too dangerous for Alex to continue to be undercover at Division with Michael's knowledge about it and tells her that its time that she leaves. Alex agrees but before the plan for Alex to disappear can be put in motion, she and Jaden are assigned to an overseas mission to stop the son of a foreign president from selling a newly developed nerve toxin to a potential terrorist group. Things go awry and Alex must decide between saving the mission as well as Jaden to avoid blowing her cover, or saving herself.
Glass Houses
Writer: Kalinda Vazquez
Director: Ralph Hemecker
April 28, 2011.
#1x20
Frustrated that Nikita continues to intercept his black boxes, Percy sends Michael to check on one of the boxes and the guardian attached to it. Nikita makes it to the small Pennsylvania town first and is shocked to find that the guardian is a normal woman named Dana who has abandoned her post and is attempting to live a normal life with her husband and child. Tensions mount when Michael is forced to report Dana's actions and Division swarms in to clean up any evidence of her existence. Meanwhile, Alex and Jaden get into an argument and Nathan gets caught in the middle. Jaden gets killed after finding out that Alex revealed information about Division to Nathan. At the end of the episode, Alex gets caught by Amanda, after hearing Alex's conversation with Nikita through an ear piece Jaden had been wearing.
Betrayals
Writer: Andrew Colville
Director: Eagle Egilsson
May 5, 2011.
#1x21
After Michael learns that Percy has ordered Division to kill anyone who could decrypt the black boxes, he sends Nikita in to save the last person on the list: a CIA cryptographer named Malcolm (Rich Sommer). Nikita kidnaps Malcolm and takes him to Ryan (Noah Bean) for protection. Meanwhile, Amanda tells Percy that Alex is the mole working for Nikita. After not hearing from Alex in a while, Nikita asks Michael to check on her, which ends up getting Michael trapped in Division. Percy releases Alex after showing her a video of Nikita killing her parents and telling her that she will be monitored full time. Alex goes back to Nikita asking her if she killed her dad. When Nikita doesn't answer the question, Alex shoots her.
Pandora
Writer: Craig Silverstein
Director: Kenneth Fink
May 12, 2011.
#1x22
The episode starts off with where it left off in the previous episode. It is shown that Alex faked Nikita's death. Alex is taken back to Division where she is taken by Amanda. She activates Alex's kill chip and kills her. However, Amanda brings Alex back to life and lets her go free. She tells her not to go back to Nikita. Percy attempts to take over the CIA. The black box that is given to CIA has the nerve toxin inside it, rigged to release when anyone cracks the encryption and opens the Operation Sparrow file.