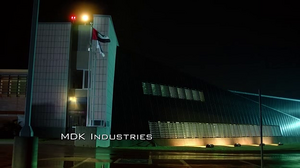 M.D.K. Industries serves as the cover for The Invisible Hand's work. This particular facility is located in Dubai. The building itself has at least seven stories.
Facility
Entrance
The entrance was guarded by a couple of guards.
The 5th Floor
The fifth floor is forbidden for most of the staff because that is where Jones's office is.
The 7th Floor
Sector 7G is important because it features the computer room from which a launch sequence can be initiated.
The Cells
The cells are presumably located in the basement. Some of the persons who were locked in here include: President Kathleen Spencer, Matthew Graham, Ronald Peller and Asef Hadad. All prisoners within the cells were all replaced by doubles.
Other
Appearances
Season 3
Season 4
See Also
Ad blocker interference detected!
Wikia is a free-to-use site that makes money from advertising. We have a modified experience for viewers using ad blockers

Wikia is not accessible if you've made further modifications. Remove the custom ad blocker rule(s) and the page will load as expected.