Jonathan Glassner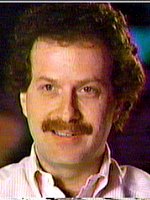 Jonathan Glassner is a television writer, director, and producer. He is known for his involvement with Stargate SG-1 (where he was executive producer for the first three seasons) and The Outer Limits. Glassner was initially noticed as a writer for his work on Alfred Hitchcock Presents. After writing for several television series, including 21 Jump Street, Glassner moved on to The Outer Limits, which naturally segued into his involvement with Stargate SG-1 as a staff writer and executive producer. His most recent work is as a writer and director for CSI: Miami, CSI: NY, and other shows. He was also a Co-Executive Producer on the NBC show Heist and the FOX show Standoff, as well as for Sci-Fi Channel's The Invisible Man.
Director
Season 1
External links
Ad blocker interference detected!
Wikia is a free-to-use site that makes money from advertising. We have a modified experience for viewers using ad blockers

Wikia is not accessible if you've made further modifications. Remove the custom ad blocker rule(s) and the page will load as expected.