High-Value Target is the twentieth episode of Season Three and the sixty-fifth episode overall.
Plot
WIKILEAKS TIMES A MILLION - Seized from the wreckage of Division, the black box falls into the hands of a mutinous agent guided by Amanda. Select leaks to sweeten the box's sale immediately put what's left of the team in peril from potential international buyers and the President. With no support staff, few leads, and clock ticking, arms dealer/reformed rogue Cyrus (guest star Isaiah Mustafa) returns to do right. With his help, Nikita, Michael and Alex stage a daring op at the tightly-secured G-20 economic summit to regain control of the box and everyone's future. Noah Bean, Dillon Casey, Aaron Stanford and Devon Sawa also star.
Cast
Main Cast

Recurring cast

Guest Cast
Gallery
Videos
Trivia
Not a single promotional photo was released for this episode.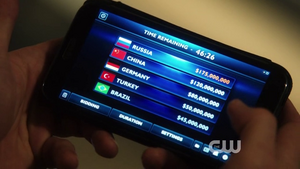 When there was 46 minutes left til the end of an auction these were the results:

Russia with 175 million $
China with 120 million $
Germany with 80 million $
Turkey with 50 million $
Brazil with 45 million $

At the end Germany has won because it was funded by the Shop.
This was the episode in which both Division and the last of the Black Boxes were finally terminated.
This marks Cyrus' final appearance of the series.
See Also
Ad blocker interference detected!
Wikia is a free-to-use site that makes money from advertising. We have a modified experience for viewers using ad blockers

Wikia is not accessible if you've made further modifications. Remove the custom ad blocker rule(s) and the page will load as expected.