Asef Hadad
Biographical information
Portrayed by
First Appeared
Last Appeared
Status
Asef Hadad works is a specialist driver who operates in Karachi, Pakistan.
Season Four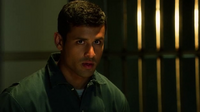 In "Pay-Off" he was kidnapped and replaced with a double while he was buying shawarma in Karachi, Pakistan. He was held in M.D.K. Office in Dubai until Team Nikita arrived and busted him out of his cell.
See Also
Ad blocker interference detected!
Wikia is a free-to-use site that makes money from advertising. We have a modified experience for viewers using ad blockers

Wikia is not accessible if you've made further modifications. Remove the custom ad blocker rule(s) and the page will load as expected.