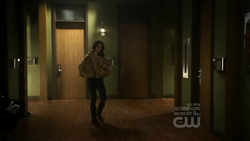 Alex's Apartment is located in this building.
Season One
In "Free" after Alex became a Division agent, Division bought her a new car and an apartment in New York. She is allowed to buy anything under 20.000 dollars. Michael showed her the apartment and she saw Nathan for the first time. Nathan later visited her and invited her to a party.
Gallery
See Also
Ad blocker interference detected!
Wikia is a free-to-use site that makes money from advertising. We have a modified experience for viewers using ad blockers

Wikia is not accessible if you've made further modifications. Remove the custom ad blocker rule(s) and the page will load as expected.